Via Scoop.it – freelance copywriting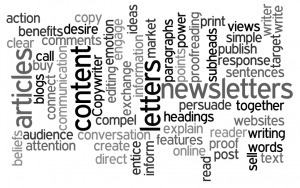 This is a Copywriter's Manifesto written by Sandra Slavec that caught my eye. While some of her points are strongly worded, she mostly nails it. Copywriting can be a demanding trade, and it can be especially frustrating when a client comes to the table with expectations that don't match with the copywriter's own view of his or her trade.
Here's what Sandra had to say. What do you think?
"A couple of months (ago) I scored a regular copywriting gig, and while I put a lot of time, energy and creativity into crafting great articles, I soon discovered that the client I was writing for didn't share my views.
In fact the client simply didn't value copywriting beyond anything more than a means to boost their website ranking on Google.
It was clear that we both had very different ideas about the value of copywriting and it was our differing views and expectations that put an end to our rather unhappy working partnership.
So on the basis of that ill-fated situation, I decided to write a copywriting manifesto to clarify and explain the real value of copywriting.
Copywriting is a conversation
There's no need for heavy jargon and empty corporate speak in your copy.  No one is impressed or will even bother to read complicated and hollow monologues.  It only serves to create a barrier between your business and your customers, and they will simply go where the conversation speaks their language.
Copywriting solely for SEO purposes
SEO has its place, but to obsess about page ranking and visitor traffic to the exclusion of actually engaging with customers in a real and honest way is a waste of everybody's time.  Technology and search engines won't 'convert' visitors into paying customers, copy that is genuine, inviting and sounds human will win over the trust and confidence of your customers and make the sale.
Copywriting helps build relationships
Words attract attention, words create interest, words add personality to your message, words connect with customers, words convey feeling, and words provide the framework that carries your message, building a bridge between a business and their customers.
Copywriting is a creative process
It takes time to write great copy, to understand the audience you're writing for and to create a 'conversation' that speaks their language.  It takes time to research the client's business to fully grasp what they do, what they're about, what makes them different and to be able to write from a knowledgeable point of view. Copywriting is a balancing act, meeting the client's needs as well as their audience.
Great copywriting requires a great brief
The brief is the copywriter's template it provides vital information about the client's objectives, and provides the foundation on which to create purposeful content.  A poor brief or worse no brief won't get you great results.  Copywriters are not mind readers, the more information we have the better your copy will be.
Copywriting helps create communities
Communities are based on open dialogue; it's where likeminded people gather to talk with one another, share information and ideas.  Copywriting can help businesses create a community that encourages dialogue with its customers, shares their concerns and shows genuine interest in their customers.  Creating a community makes your business more accessible, more human, more than just about the sale.
Good copywriting is truthful
At the heart of all good copywriting is truthfulness.  Gaining trust and loyalty from customers can only come from writing honestly.  No scams, lies or embellishments – just straightforward information that is sincere will get you much better results every time.  Copy that is truthful is easier to write, it's concise and focused.  Besides people can see right through the bullshit – so you're not fooling anyone by fudging the truth.
Copywriting – it's all about the words
There is power in the written word, without words you don't have websites, blogs, emails or online communities, without words there is no SEO, webinars or e-books.  The online world is very much about words, conversations and interaction.  Trust the copywriter to know the right words to infuse your copy with so that it rings true, is lively, interesting and attracts attention for all the right reasons – people who want what you have, to be a part of your community.
Copywriting is a highly skilled craft in salesmanship.  Respect the copywriter – they're your sales person, it's their skill with words that make your business look good and appealing and bring you more sales!
And in the words of Brian Clark from Copyblogger fame "The Writer Runs This Show""